Customer Reviews
10/17/2020
Addison M.
United States
I recommend this product
Best
I love this product! I'm obsessed with my tan and this is the perfect shade for me
08/25/2020
judy A.
United States
I recommend this product
Woweee
Love the tanner!! I've used probably 10 different companies in the past and this one is THE BEST!!!❤️❤️❤️
08/24/2020
Jamie P.
United States
I recommend this product
Love this
Great I really enjoyed trying this and the original formula. It's so nice to have both.
07/27/2020
Lisa
United States
I recommend this product
Wow!!!
Omg I don't normally post stuff like this... BUT since quarantine I've tried a few self tanners. The two I've tried are St. Tropez which gave great color pre- rinse BUT sadly all the color washed off. I tried St. Moriz darkest formula which gave great dark color BUT 60% washed off after rinse. Then I saw a post on @misshollyallen in the beginning of July promoting @getintothelimelight and I was skeptical but I bought it ( darkest formula) there was a little bit of a wait for delivery and the founder of @getintothelimelight was in constant contact with me when I reached out to her. I tried this yesterday after exfoliating, and shaving my legs waited the 4 hours before rinsing and OMG these results are AMAZING the color continued to develop for 8-10 hours after rinsing. I LOVE to be tan. I always tanned indoors ( when I was younger) and I always tan outside in the summer when I'm able to. I'm addicted to @getintothelimelight this is my NEW FAVORITE SELF TANNER!!! p.s it smells like a delicious chocolate bar and makes your skin feel so soft. These pictures are after rinsing last night and color fully developed after the 8-10 hours after rinsing. I took these pictures this morning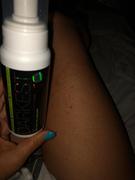 06/13/2020
Connie S.
United States
I recommend this product
Nice glowing tan
Application was easy, no streaking