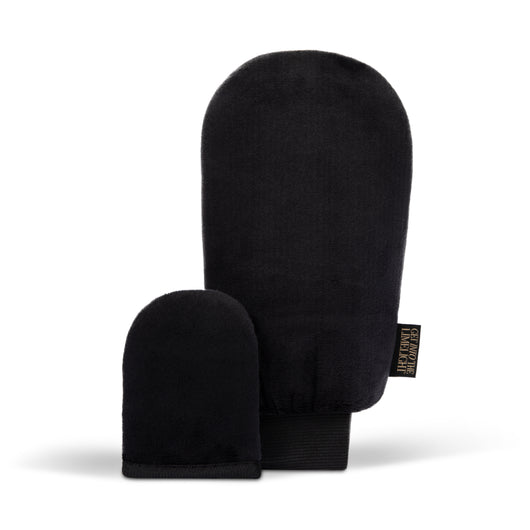 Luxury Self-Tanning Applicator Mitts
Regular price $12.00 Sale
Get Into The Limelight's five-layer self-tanning applicator mitts apply sunless tanning product evenly while promising stain-free hands.
Description
Our five-layer padded mitt design promises even self tanning application. Weft microfiber lines the mitt on the inside and outside, ensuring a soft, velvety feel on the skin. A soft pile finish provides optimal surface for blending any form of sunless tanning product into the skin for a streak-free finish.
Our self-tanning applicator mitts are premium spa products lined with a TPU layer, preventing any sunless tanning product from entering the comfortable 5mm sponge, maximizing the amount of sunless tanning product used and preventing waste. Our mitts are completely washable for reuse over and over again. We recommend the hand mitt for body application and the smaller, finger size facial mitt for face, hands, feet, and smaller areas.
Directions for Use
Insert hand into the mitt.

Apply self tanning mousse to the mitt and evenly smooth it onto the areas that you want to cover in long gliding movements.

Mini mitt can be used in the same way for the face and other small areas of the body. Apply the product to the mitt and evenly smooth it onto the areas that you want to cover.
Care
Once you are finished with application, rinse mitt well in warm water until water runs clear. Alternatively, mitts can be machine washed on delicate with detergent.
Do not dry mitts with heat. Place mitt over a bottle or hang it up to air dry for best results.
Other